Almaty Hotels
Welcome to Almaty hotels reservation service. Almaty-hotels.net provides convenient mean to book hotels in Almaty. Review Almaty hotels features, compare prices and book suitable for you hotel over our site in Internet.
Featured Hotel in Almaty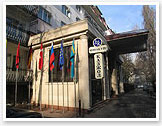 Kazzhol Hotel
Kazzhol Hotel
Gogol street 127/1 Almaty, Kazakhstan
Kazzhol Hotel provides 119 rooms, all equipped with shower, bathtub, hairdryers, air conditioners, satellite TV, and mini-bar. Guests are also welcomed to use sauna, business center services, hairdressing saloon.
n/a