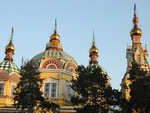 On the territory of one of the main parks of Almaty, 28 Panfilov Heroes Park, there is the one of the most unique cathedral buildings not only of Kazakhstan but the whole world. The Ascension Cathedral is the wooden church with the height of 56 meters.
After heavy earthquake in 1887, almost all new buildings were made of wood in Almaty, and the Ascension Cathedral was not the exception, which was built in 1907 of Blue Tien Shan Spruce. It was erected by architect K.A. Borisoglebskiy and engineer A.P. Zenkov, according to the project of Pavel Gurde. Thanks to the professionalism of these people the Cathedral survived the 10-magnitude earthquake in 1910, the only evidence of which is the lopsided cross on one of domes – the rest of building did not receive any damage at all.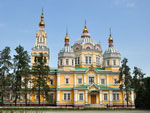 The Church was entirely built of wooden details, connected by iron bolts. "At grandiose height – wrote Zenkov about church – it corresponded to very flexible construction. The belfry swung and bent, as the top of a tall tree and worked as a flexible timber. But that the building was built without any nail is just the widespread myth.
External view of the cathedral is different by bright walls and many-colored domes, but also the interior is distinguished by iconostasis painting and entire decoration, made in the early XX century in the workshops of Moscow and Kiev.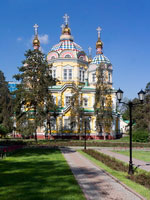 The cathedral, the history of which began in 1907, did not escape the fate of many churches in the Soviet times: in 1927, services were terminated, and since 1929 the museum was placed here. In 1930 various organizations occupied it and the radio antenna was installed on the belfry. The first restoration was carried out in 1976. Finally, in 1995, the Ascension Cathedral was returned to the Russian Orthodox Church, services were renewed here.