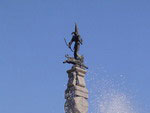 source: infokz.com
Any large city obligatory has the central square, where all significant events, holidays, meetings and etc. are held. In Almaty, former capital of Kazakhstan, this role is entrusted to the Republic Square (former New Square). It is located on the crossing of central streets – Bayseitov and Saptaev. It is the size of two football fields, and on its territory there is the complex, consisting of sculptures, texts of various aphorisms, architecturally connected. And the central place of the complex is the Monument to Independence.
The monument is placed in the centre of round paved area with the diameter of 46 meters, and is the stele with the height of 28 meters with the "Golden Man" on the top of it. It is the image of ruler, which was created on the base of archeological finds in the mound Issik near to Almaty. The king of Saks tribes was buried there in the best clothes and golden adornments. Besides, it was found out that the face of Golden Man was copied from the first Kazakh cosmonaut Toxtar Aubakirov. The sculpture is the height of 6 meters and is made according to special processes, ensuring the safety of the monument over thousands years. Besides, on the top of stele there is the winged leopard at man's feet, which is the symbol of Kazakhstan.
It is worth to notice that at the foot of stele there is the bronze book of wish fulfillment. On the one side of open book it is written on Old Turkic language "Choose and be happy", and on the other side there is the imprint of palm of the President of the country N.Nazarbayev.