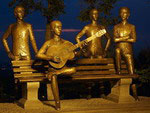 source: dic.academic.ru
At the foot of snowy peaks of Alatau, the northern range of the Tian Shan mountains, the large and beautiful city of Almaty spread out. It is adorned by wide roads, green parks and gardens, modern houses, and of course, friendly people. But in all this midst the city has its own peculiar sights, which distinguish it from other cities of the world.
First and foremost it is worth to note the Fountains of Almaty. By this time, there are more than 120 of them, and the larger part is administered by private entities. They vary in shape, design, and size, but all of them serve the ornament of "Southern Capital". Because of rather dry summer, the fountains are the only salvation of hot days. And besides, it became the tradition to celebrate the Day of fountains, on May 25, when all fountains are simultaneously switched on.
Another large landmark of Almaty is the 28 Panfilov Heroes Park, where many sights are concentrated such as the Church of Ascension, built in 1907 of wood, the Monument of glory and the Eternal Flame in honor of soldiers, laid down for the peace on front lines of World War Second, the museum of national musical instruments, which collected more than 1000 items of various instruments.
Kok-tobe, the hill on the outskirts of Almaty, is the favorite place for walking among residents of the city. The aerial cableway leads to the top of hill, during the lifting on which one can see the panorama of former capital with snowy caps of the horizon. Near to park zone of Kok Tobe there is the TV-tower with the height of 372 meters.
Besides, the city has the plenty of traditional and rather original museums, where the rich heritage of Kazakh nation is displayed, and also theatres of various genres and many others. And though Almaty is not the official capital of Kazakhstan for more than 10 years, its wealth and greatness is felt everywhere.