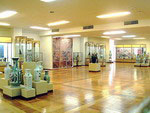 source: almadf.kz
The history of this Almaty museum began long before its official opening in Orenburg, in 30-ties of XIX century. That time it was called "Museum of Orenburg krai", and was founded at the military academy, and the exhibits were collected from Orenburg and Semirechinsk (current Kazakhstan) regions.
The State museum of Republic was opened in 1931. Its collection consisted of funds of that Orenburg museum, and the house of it was the Ascension Cathedral, later returned to Russian Orthodox church. In 1985 the museum moved to new building and today is the perfect example of architecture of Almaty. Exhibit galleries and 4 main halls are placed at the area of 17,5 thousand square meters. Totally there are more than 200 thousand items of storing in the funds of museum.
4 main halls display 4 periods of Kazakh history: first hall displays paleontology and archeology of this area, which reflects the development and formation of mankind; second hall is devoted to the history of XV-XX centuries, when Kazakh nationality was formed; the third hall reflects the history of taking of Kazakhstan by Russian Empire, mass migration of numerous nations; and the fourth hall is devoted to the modern history of Kazakhstan, beginning from 1991, when the country gained the independence.
Since recently the fifth hall appeared in the museum, which is called "Open Fund". So long as the funds of museum significantly exceed its exhibition possibilities, it was decided to create the new hall, which will display from time to time the exhibits, which were unavailable before. The main part of this exposition consists of golden jewelries.
Besides the museum regularly publishes the collection of articles and scientific works, dedicated to its exhibits. The information interchange with regional and global museums is always conducted. Besides the museum has a resource for conducting the various exhibitions, conferences, presentations and etc. This is the real godsend for scientists and art critics.