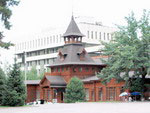 source: photofile.ru
In eastern part of the 28 Panfilov Heroes Pak there is the museum of national musical instruments. This wooden building was erected in 1908, simultaneously with Ascension Cathedral. Once the military leadership of the Turkestan governor-generalship met here for ceremonies and state receptions, and then the building was used as the House of Officials, but in 1980 the museum of national musical instruments of Kazakhstan was opened here.
The museum was named after Great Kazakh musician of XIX-XX centuries Ykylas, who promoted the purity of folk culture and preservation of various national instruments. Today there are more than 1000 items of instruments in collection of the museum, which are divided on 60 types of Kazakh national musical instruments. The collection also includes instruments, which were owned by famous singers-improvisers and composers. The most ancient exhibits are dated back to XVII century.
From the outside the building is made of wood and resembles the traditional Russian building. Inside the decoration corresponds to classic Kazakh national patterns. And in front of the building the sculpture of Kazakh bow instrument – narkobyz – is erected.
The museum of musical instruments is the great opportunity to be acquainted with Kazakh culture. Besides the view of all instruments the visitors can listen to the sounding of these instruments in performance of folk ensemble "Sazgen".