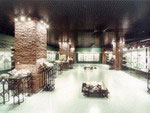 source:
nomad-kazakhstan.kz
Today Kazakhstan, taking the 9th place in the world by the area of territory, can boast of sizable reserves of minerals. According to data of global mineral resource industry 39 of 55 types of various raw minerals and metals are extracted in Kazakhstan, and the number of deposits of many of them exceeds the majority of average world indexes.
From ancient time different metals and minerals were extracted on the territory of state, the treatment of which was constantly improved, and in XVIII first geology museums began to be open in the world. Some exhibits of these museums were extracted in subsoil of Kazakhstan. It was the approaching of that time, when Kazakhstan would have its own museum of geology, describing the all underground wealth of this vast country.
In 1942, during the World War Second, when Almaty was one of the centers of evacuation, at this difficult period the Museum of Geology was opened at the Institute of Geological Sciences on initiative of Academician Kanysh Imantaevich Saptaev. The war came to end, and the museum was developed and increased with new exhibits. In 1969 the currently-operating exhibition was established on the base of museum. Then it was the period of stagnation, perestroika, independence, and on August 26, 1997 it was the birth of new museum of geology.
The excursion begins from elevator, executed in the form of elevators in deep mines. When you go down to underground (and it is the place where the museum is located), you will see the real mine: rocked walls, wooden posts, rails, and wagon full of ore. And sounds of operating machines and mechanisms create the perfect presence effect. In this small hall there are also the relief map of Kazakhstan with marks of main places of minerals extraction and the bust of the founder of this museum K.I.Saptaev.
In the end of small hall there is the entrance to main Big hall. Beautiful and charming samples of minerals and other ores, collection of Kazakh agates, various cuts of rocks, extracted all around Kazakhstan, are displayed in showcases, photographs, maps an other information about geology are presented on the walls. There is the 15-meters panorama in the end of the hall, which shows in colors the "history of development of the life on the Earth".
The competent exposition of material by guides also can be referred to advantages of the museum. They will meet any information requests either from children of preschool age or from professional geologists. Besides the museum has showing room, where one can see movies about geology, mineralogy and etc.
In conclusion it is worth to notice that museum also runs the salon of precious stones and products, which may become the perfect gift or souvenir. And also museum deals with organization of geological tours along the ridge of Zailiy Alatau.