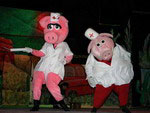 source: sezam.kz
This unusual theater was founded in 1997 on the initiative of Kairat Bayanov, who gathered around him such enthusiastic of puppet theatre, as he was himself too. It was the first and only theater of puppets in Kazakhstan. That time, the first show was completely created by actors who acted as screenwriters, sound men, lighting technicians, etc. The play, designed for children, perhaps was not as professional as it is appropriate among the actors, but children see not the skill of the play, but the sincerity and they really liked it. So, on March 3, 1997 there was the birth of puppet theater "Sesame".
After the first performance, actors inspired by the success fell into new spectacle, which was "Santa Claus & Co." At this time, professionals of theatre mastery were involved in, who helped the creators of the theater to reach the new level and to show the play of better quality. In addition puppets from abroad were ordered for performances. Thus, the puppet theater moved from the category of hobby to the professional level.
This performance was prepared specially for winter vacations of pupils, and since that time, the theatre season in this theater began to start in the New Year holidays. For more than ten-year term on the stage of the theatre many world-famous fairy tales ware performed such as "Dwarf-Nose" of W. Hauff, "Unbearable Little Elephant" of R. Kipling, "The Nutcracker and the Mouse King" of T.A. Hoffmann, "Brer Rabbit and Brother Fox" of D. Harris and many others.
Today the theatre "Sesame" is solid creative team, which passed the long way from the simple desire to show the kids a fairy-tale to the professional work to foster in young spectator the sense of beauty.