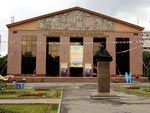 source: arzu.kz
Today the Theatre of Young Spectator is divided on two theatres, and some time it was the single theatre. Its base was laid on September 6, 1944 on the meeting of Communist Party of Kazakhstan, where it was decided to open the theatre for children. Year later, on November 7, 1945 two first plays went off, where one of the directors was Natalya Sats. It was the woman who struggled for the opening of theatre for children in Almaty. She was put to repression, and spent 5 years in Gulag, and than was in exile in Almaty; and even here continued her activity. Today they call here the mother of children theatre of the world: she founded first theatre of young spectator in the world, and totally she founded 6 theatres for children.
After year of official opening the troupe was created in the theatre, which worked on Kazakh Language. For 30 years of joint existence of Russian and Kazakh troupes several dozens of plays were produced on the stage of theatre. However the main part of repertoire consisted of works of European and Russian authors, and Kazakh plays could be counted on the fingers of the hand.
In 1985 it was the crucial resolution of the Ministry of Culture of Kazakhstan, according to which the theatre was divided on Russian theatre for children and youth named after Natalya Sats, and Kazakh theatre named after Musrepov. Some time both theatres were located in one building (as two troupes over 30 years): carried out rehearsals separately, and performed the plays in divided between them time. But later the new building was allocated for Russian theatre and their ways were parted.
And though they are divided, but they have the same aim – they are called to bring up in young generation the love to the art and the sense of beauty. Both theatres gained the rank of academic theatres in 1996. the Kazakh theatre named after Musrepov is located in the old building, and the theatre named after Natalya Sats moved to one of the Houses of Art of Almaty in 2000. And we only can hope that this division will not create language barriers, and just will give the opportunity to show more plays for its young, but searching spectator.