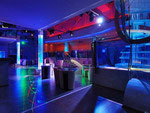 source: menu.kz
This simple formula is known to practically every schoolchild to say nothing about adults. But recently, in March 2010, this formula became the name for one Almaty nightclub - H2O. The founders have done the emphasis on light and sound, which became the basis of unforgettable dynamics of the club. In this club the mainly dominated music is the modern music styles as Chillout, Deep Techno, Downtempo, Dubby, Easy Listening, Lo-Fi, Lounge, Minimal Electronica, Minimal House, Minimal Techno, Tech House, Tribal House and Tribal Techno A.
In addition, the distinctive feature of the club is its water-air hi-tech interior: where the entire plumbing, air-conditioning system and other, are not hidden behind false ceilings and walls made of plasterboard, but quite contrary, they are brought to the foreground. And here, these pipes no longer bear the functional load, and are part of the design. Complement of the interior of the club is various partitions filled with water and artificial mini-waterfalls with backlit.
Here, you will be able not only enjoy, dance, and taste different cocktails, but also to have dinner - the club has its own kitchen, which is ready to offer soups, salads, meat dishes, pizzas and more.