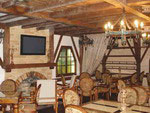 source: restoran.kz
It is nearly 6,000 kilometers from Almaty to Berlin, but it is not the reason not to enjoy a real German cuisine in southern capital. The town has several restaurants specializing in cuisine of this European country which is famous for its culinary traditions around the world. The restaurant "Swabian house" is one of the best restaurants in Almaty, which is ready to offer you the full menu of different meat dishes and the wide choice of different beers brewed on German technology.
The restaurant is famous for its large selection of dishes from pork, fish and poultry. And snack of sausages is the real find for gourmet. What to say about Swabian sausages, which few centuries ago have already earned the worldwide fame. The chef knows what's what in German cuisine, and any dish prepared by him is excellent - to get the full enjoyment it should be savored.
The pride of the restaurant is the real German beer, accompanied with cellar of German wine. This wine is made from grapes grown in the warm sun on the banks of the Rhine.
The restaurant is constructed in the traditions of German design. It is warm, cozy and comfortable here. In the six halls of the restaurant the culture of Germany and Austria is reflected. "Hunting" hall is created for men who want to relax with a beer in their hands by the fireplace where everyone can tell about their adventures and achievements. "Pharmacy" Hall is the best place for romantic meetings. And "Tea" hall is the perfect place for business conversations over a cup of tea or coffee. In cozy and comfortable rooms of the restaurant "Swabian house" everyone can find what he is looking for.