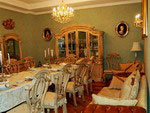 source: restoran.kz
In far 1812 it was one of the most important battles in the history of France an Russia: near to Moscow Napoleon lost the decisive battle against Russian army, after which the Empire of Bonaparte began to fall in decay. This event entered the history as the Borodino Battle, or just Borodino. In 2005 the restaurant "Borodino" was opened in Almaty, which was designed in the manner of that epoch, with slight accent on the military theme.
The atmosphere of XIX century of Russian Empire is felt even in the entrance. The Aristocratic ornamentation of halls distracts in a moment from the fuss of the big city, left outside. But at the same time antique clocks, patterned mirrors, carved chairs and molding are harmonic combined with the air conditioning, sound system and electricity.
The main part of the restaurant cuisine is Russian cuisine, made with accent on French cuisine. But European cuisine is also represented here. Also, the restaurant is divided into several halls, each of which is distinguished by its design and purpose, so everyone can find what he likes more...
The main hall fully reflects the spirit of the beginning of XIX century, and live piano music perfectly supplements it. The bright Silver Hall will be perfect for aristocratic ladies. The Eastern hall will be more suitable for men. In addition, there are separate rooms, which are coffee, cigar and wine room, capable to satisfy the most exacting connoisseurs of drinks and cigars.
"Borodino" - is not just the restaurant, but the real time machine, capable to send you 200 years back. Do not miss the chance to make this interesting and tasty tour.